Campaign Planks
For medical groups, the campaign is organized around eight campaign planks (evidence-based care processes) detailed below, which are based on best practices from our hypertension learning collaboratives and consultation with the campaign's National Steering Committee and Scientific Advisory Council.
The Provider Toolkit provides more information for each plank, including:
Concise one-pagers with guidance including actionable steps and suggested resources for implementing the plank
Best practices tools used by some of the nation's leading health care organizations
Case study from American Medical Group Association's Best Practices in Managing Hypertension Compendium for detail on how the plank was implemented by medical groups that achieved significant improvements in their control rates
Further information on each campaign plank is also available via recorded monthly webinars.
Campaign Planks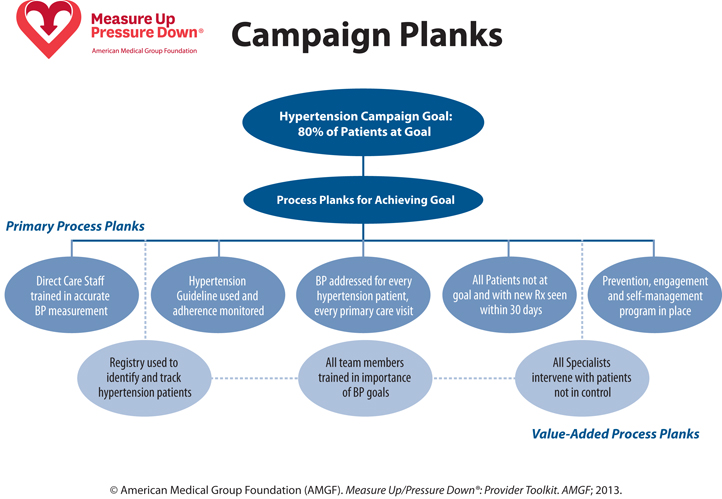 Primary Process Planks
Each participating organization is asked to implement as many of the following Primary Process Planks as possible to meet the campaign goal of 80 percent of hypertension patients at goal according to JNC 7:
Direct Care Staff Trained in Accurate BP Measurement: All team members involved in direct patient care should be trained in taking blood pressures according to a standard process. An annual evaluation/certification should involve both the ability to follow the process and blood pressure measurement accuracy. The entire on-site team should, through training, be aware of the importance of hypertension management and target blood pressures. Team members should be encouraged to comment to patients on their progress especially when not at goal.
Hypertension Guideline Used and Adherence Monitored: Each organization will adopt and deploy a process or algorithm to guide therapy in accordance with JNC 7 Guidelines. In addition, the ADA and NCQA goal for diabetic patients (140/90) should be included in the algorithm.
BP Addressed for Every Hypertension Patient at Every Primary Care or Cardiology Visit: This will occur without exception and processes are in place to monitor adherence.
All Patients Not at Goal or With New Hypertension Rx Seen Within 30 Days: When patients are not at goal or have had a new Rx or change in Rx prescribed, they should be scheduled for a return primary care visit within 30 days. In some instances, these visits may be handled by someone on the healthcare team other than a physician, or may occur through e-visits. Visit reminders may be useful in assuring patients keep their appointments.
Prevention, Engagement and Self-Management Program in Place: There is a program to educate patients on lifestyle, diet, exercise, and the importance of taking anti-hypertension medications. The program emphasizes patient engagement and teaches self-management skills.
Value-Add Process Planks
To achieve breakthrough results, organizations may find it necessary to implement one or more of the Value-Add Process Planks:
Hypertension Registry Used to Track Patients: A method is in place to identify all hypertension patients before each visit and to note whether they have co-morbid conditions that could affect their BP control, whether they are at goal, and whether there are gaps in care.
All Team Members Trained in Importance of BP Goals and Metrics: The entire on-site team should, through training, be aware of the importance of hypertension management and blood pressure goals. Team members should be encouraged to comment to patients on their progress and on the importance of medications, especially when patients are not at goal.
All Specialties Intervene with Patients Not in Control: All specialty departments should routinely take blood pressures on adult patients and refer the not-at-goal patients to primary care. When possible, a primary care appointment should be made before the patient leaves the specialty appointment.