Data Reporting For Medical Groups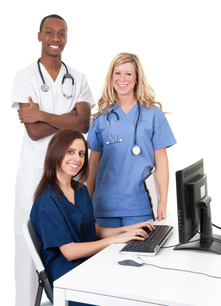 All participating Measure Up/Pressure Down® medical groups commit to reporting hypertension prevalence and control rates in their patient populations on a quarterly basis as part of joining the campaign. Through reporting and analysis, the campaign will be able to:
Evaluate progress towards the campaign goal of 80% of patients in control of the disease by 2016
Provide blinded feedback and comparative reports to campaign participants
With a rich history in the facilitation of data-driven collaboration to improve population health, AMGA's Anceta Collaborative is working with Measure Up/Pressure Down® for data reporting and measurement.
Campaign Results: Q4 2015
In May 2016, Measure Up/Pressure Down® announced updated campaign results based on data reported through the campaign web portal. Results show:
Reporting period January 2015-December 2015:
Average Prevalence Rate (Q4 2015): 31.6%
Average Control Rate (<140/90*) (Q4 2015): 70.9%
Blood Pressure Control Improvement from Q1 2013 to Q4 2015: 2.8%
Number of Patients with Improved Hypertension Detection or Control Since Start of the Campaign (First Quarter Reported to Q4 2015): 542,069 (adjusted for seasonality)
All participating campaign groups will receive an email the week of May 2 with their identification code to allow for blinded feedback and comparison to other participants. Please contact mupddataadmin@amga.org with questions about this process.
| | | |
| --- | --- | --- |
| | | |
| Prevalence of Hypertension Among Total Patient Population | Proportion of Patients with Hypertension In Control (<140/90) | Blood Pressure Control Improvement |
*Medical groups included in the average prevalence and control rates are those who submitted data for the Q4 2015 reporting period. The set of medical groups who submit data differs slightly from quarter to quarter, so the averages may not be directly comparable.
Please note: Hypertension prevalence, control, and improvement may include some anomalies, based on reported data. We will continue to work with groups and systems to ensure we are representing your performance accurately.
Ongoing Data Reporting
Measure Up/Pressure Down® will continue reporting data beyond the conclusion of the campaign, contingent on data submission by participating organizations. To learn more, please contact mupddataadmin@amga.org.
Data Reporting Resources
In November 2013, the campaign hosted two webinars (click for recorded webinar and slides) to review the measurement specifications and data reporting process in detail. Additional resources include:
For additional support, please email the Measure Up/Pressure Down® data support team.