Provider Toolkit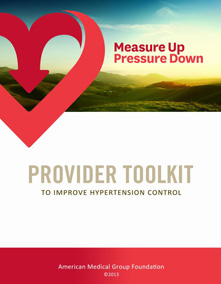 The American Medical Group Foundation and American Medical Group Association (AMGA) have produced a toolkit for medical groups participating in Measure Up/Pressure Down™. The Provider Toolkit addresses many common challenges associated with effectively treating and managing hypertension. The toolkit helps medical groups and health systems achieve 80 percent of hypertension patients in control, at goal, according to national standards (JNC 7).
In this free toolkit, you'll find useful tools, tips, and resources to help you jump-start your hypertension quality improvement initiative and get you on the road to achieving better control rates. The toolkit is organized around each of the eight campaign planks (evidence-based care processes) detailed below, which are based on best practices from our hypertension collaboratives and from consultation with the campaign's National Steering Committee and Scientific Advisory Council. For each plank you will find:
• Concise one-pagers including actionable steps and suggested resources for implementing the plank
• Best practices tools used by some of the nation's leading healthcare organizations
• Case study from AMGA's Best Practices in Managing Hypertension Compendium for detail on how the plank was implemented by medical groups that achieved significant improvements in their control rates
Provider Toolkit Downloads
The comprehensive Provider Toolkit is available for download here. Individual sections of the Provider Toolkit are available below, organized by campaign plank. New tools since initial publication are posted below by date.
Introduction [PDF]
About Measure Up, Pressure Down [PDF]
Getting Started [PDF]
Plank 1 - Direct Care Staff Trained in Accurate BP Measurement [PDF] [+]
Plank 2 - Hypertension Guideline Used and Adherence Monitored [PDF] [+]
Plank 3 - BP Addressed for Every Hypertension Patient at Every Primary Care or Cardiology Visit [PDF] [+]
Plank 4 - All Patients Not at Goal or with New Hypertension Rx Seen within 30 Days [PDF] [+]
Plank 5 - Prevention, Engagement and Self-Management Program in Place [PDF] [+]
Plank 6 - Registry Used to Track Hypertension Patients [PDF]
Plank 7 - All Team Members Trained in Importance of BP Goals and Metrics [PDF] [+]
Plank 8 - All Specialties Intervene with Patients Not in Control [PDF] [+]
Key Contacts [PDF]