About Measure Up/Pressure Down®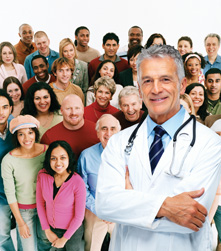 Measure Up/Pressure Down® Factsheet [PDF] and Brochure [PDF]
Measure Up/Pressure Down® 2013 Annual Report [PDF]
High blood pressure (hypertension) is a leading risk factor for heart disease, stroke, kidney failure, and diabetes complications. Known as the "silent killer," high blood pressure often has no symptoms until serious problems occur. Many people have high blood pressure and can go for years without knowing they have the life-threatening disease. Nearly one out of three American adults (68 million) has high blood pressure. Less than half have their conditions under control.
Improving blood pressure control requires an expanded effort and an increased focus from healthcare systems, providers, patients, employers, and the entire nation.
Measure Up/Pressure Down® is a three-year national campaign designed to engage these important stakeholders in improving blood pressure control and achieving lasting improvements that lead the way to greater health, productivity, and cost savings.
Measure Up/Pressure Down®
Created by the American Medical Group Foundation (AMGF), Measure Up/Pressure Down®:
Leverages the coordinated care delivery systems of members of the American Medical Group Association and other health systems to achieve 80 percent of high blood pressure patients with their condition in control by 2016.
Raises awareness of the dangers of high blood pressure; educates Americans as to how their blood pressure can be in control; and encourages adults to measure their blood pressure, monitor changes, and maintain control.
Brings together national partners working collectively to provide patients and communities with information and tools to bring about lifestyle changes, medication adherence, and other keys to successful blood pressure control.
To date, more than 140 medical groups and health systems delivering care to more than 42 million patients have joined Measure Up/Pressure Down®, including some of the nation's most prestigious health organizations such as the Mayo Clinic, Cleveland Clinic, Kaiser Permanente, Geisinger Health System, and Henry Ford Health System. These groups have pledged to work toward achieving the campaign's goals by adopting one or more of the campaign care processes (planks) known to improve quality of care for patients with high blood pressure. More information about the planks can be found here.
Our national partners have teamed up with AMGF to raise awareness among patients, employers, and communities about the dangers of uncontrolled high blood pressure.
The national campaign encourages adults to measure, monitor, and maintain – have their blood pressure checked at least once a year, work with their doctors on treatment plans, take any prescribed medications as directed, and make lifestyle changes such as eating in healthier ways and becoming more active.
About AMGA & AMGF
| | |
| --- | --- |
| | The American Medical Group Association (AMGA) represents some of the nation's largest, most prestigious medical practices, independent practice associations, accountable care organizations, and integrated healthcare delivery systems. AMGA's mission is to support its members in enhancing population health and care for patients through integrated systems of care. More than 125,000 physicians practice in AMGA member organizations, providing healthcare services for 130 million patients (nearly one in three Americans). Headquartered in Alexandria, Virginia, AMGA is the strategic partner for these organizations, providing a comprehensive package of benefits, including political advocacy, educational and networking programs, publications, benchmarking data services, and financial and operations assistance. |
| | |
| --- | --- |
| | The American Medical Group Foundation is the philanthropic arm of the AMGA. As a nonprofit 501(C)(3) organization, its mission is to foster quality improvement in group practice through education and research programs in clinical quality, patient safety, service, operational efficiency, and innovation. In addition to research and demonstration projects, the Foundation helps support learning collaboratives and presents educational grants and awards to medical groups that demonstrate improvements in practice, quality, and patient care. |