Media Resources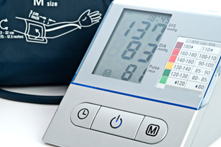 Media members can play a vital role in raising awareness of the risks of high blood pressure and encouraging readers to measure their numbers, monitor any changes, and maintain control of the "silent killer." The following resources are intended to support media coverage of efforts to control high blood pressure across the nation, including the national Measure Up/Pressure Down® campaign.
For media inquiries, please contact Communications & Partnership Coordinator, Shannon Walsh.
Measure Up/Pressure Down® Fact Sheet & Brochure
Improving blood pressure control requires an expanded effort and an increased focus from health care systems, providers, patients, employers, and the entire nation. Measure Up/Pressure Down® is a three-year national campaign designed to engage these important stakeholders in an effort to improve blood pressure control and achieve lasting improvements that lead the way to greater health, productivity, and cost savings. Our campaign fact sheet and brochure provide in-depth information about campaign history, goals, supporters, and more.
High Blood Pressure Statistics
High blood pressure is one of the most prevalent health conditions facing Americans. In fact, 68 million Americans – 1 in every 3 U.S. adults – have high blood pressure, and nearly 20 percent do not know they have it. Sadly, the disease can lead to other health problems, including heart attack, stroke, and heart failure. Current health and financial statistics and interactive maps are available here.
Measure Up/Pressure Down® High Blood Pressure Facts Infographic
Measure Up/Pressure Down® developed a high blood pressure facts infographic to share information about the disease in a visually-compelling way. The infographic details high blood pressure risk factors, prevalence, impact, and prevention tips.
Personal Stories of High Blood Pressure Control
Millions of people in your community are living with high blood pressure. Here are just a few of the stories of remarkable individuals who are now in control of the disease by measuring their blood pressure, monitoring for changes, and maintaining healthy numbers through lifestyle changes and/or medication.
Spokespeople
Measure Up/Pressure Down® experts on high blood pressure may be scheduled, as available, for media interviews. Additional interviews with participating medical group(s) in your community can be coordinated through Measure Up/Pressure Down®.
Logos
Measure Up/Pressure Down® logos and style guidelines may be downloaded here.