National Day of Action 2015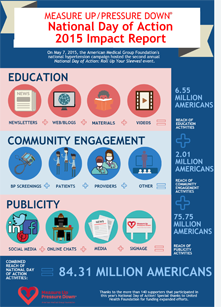 As part of our efforts during May's National High Blood Pressure Education Month, the American Medical Group Foundation hosted its second annual Measure Up/Pressure Down® National Day of Action: Roll Up Your Sleeves! on Thursday, May 7, 2015.
Last year, 70 campaign supporters participated in the inaugural National Day of Action: Roll Up Your Sleeves!, and collectively reached 57.4 million Americans through screenings, local events, materials dissemination, social media, website, media coverage, and more.
MORE THAN 140 CAMPAIGN SUPPORTERS JOINED OUR EFFORTS THIS YEAR TO IMPACT MORE THAN 84.3 MILLION AMERICANS. CLICK HERE [PDF] TO VIEW OUR 2015 NATIONAL DAY OF ACTION IMPACT REPORT.
On this National Day of Action, we encouraged all Measure Up/Pressure Down® supporters to roll up your sleeves and join together in their respective communities and participate in at least one action to raise awareness of high blood pressure – to patients, providers, employees, or the general public. These actions took different forms, based on your audience, capabilities, and resources. We encouraged supporters to get creative and think of ways to incorporate the Measure Up/Pressure Down® National Day of Action: Roll Up Your Sleeves! into activities and events that already exist at your organization.
Highlights from the 2015 National Day of Action included:
Doubling our number of supporters (143) and reaching 26 million more Americans (84.3 million total) than our 2014 event.
Letter of support from U.S. Senator Mark R. Warner (VA) recognizing the second Measure Up/Pressure Down® National Day of Action. In summary, Senator Warner wrote, "The American Medical Group Foundation's commitment to providing screenings and educating our Commonwealth's citizens about blood pressure control is exemplary. I commend all those who work with your organization to help strengthen the community and improve the lives of others."
Media coverage in more than 25 outlets, including: USA Today, Washington Post, Washington Post Express, Washington Sun, St. Louis Today, eMissourian, KAIT (ABC/NBC; Jonesboro, AR), WAND (NBC; Decatur, IL), WBOY (NBC; Clarksburg, WV), WFMY (CBS; Greensboro, NC), WGBA (NBC; Green Bay, WI), WGEM (NBC; Quincy, IL), WLUK (FOX; Green Bay, WI), WRSP (FOX; Springfield, IL), KLBJ (Austin, TX), WLXE (Washington, DC), and WMMJ (Washington, DC).
Actions from more than 140 campaign supporters, ranging from free blood pressure screenings to employee engagement and more
A special thanks to United Health Foundation for grant funds which support this year's National Day of Action expansion, including new resources.